Dynamic Content is a content management, production and delivery solution designed for businesses that wish to drive engagement and conversion through powerful, visual storytelling at brand, category and product levels.
Along with Dynamic Media and the Content Hub - which enables image and video content management - it forms a key part of the Amplience solution, delivering a modern headless and API first cloud-based content management capability.
See what our customer say...
"Content scheduling is amazing for us. We save so much time!"
"Amplience is lifechanging"
"Amplience Dynamic Content has empowered our business to do more."
"Very user friendly!"
"The blog landing page used to take us half a day. In Amplience this now takes us 25 minutes"
Built for the now and future of businesses
Unlike existing Web CMS solutions, Dynamic Content is built API first and is 'headless' in the sense that content is managed separately from content presentation. This separation of concerns enables creative operations teams to work directly on building the core content set without having to simultaneously solve for all of the presentational contexts.
As a result, content produced using Dynamic Content is rendered on-demand in whatever format is required, at request time, enabling a Create Once, Publish Everywhere (COPE) workflow that delivers a consistent experience at every touchpoint.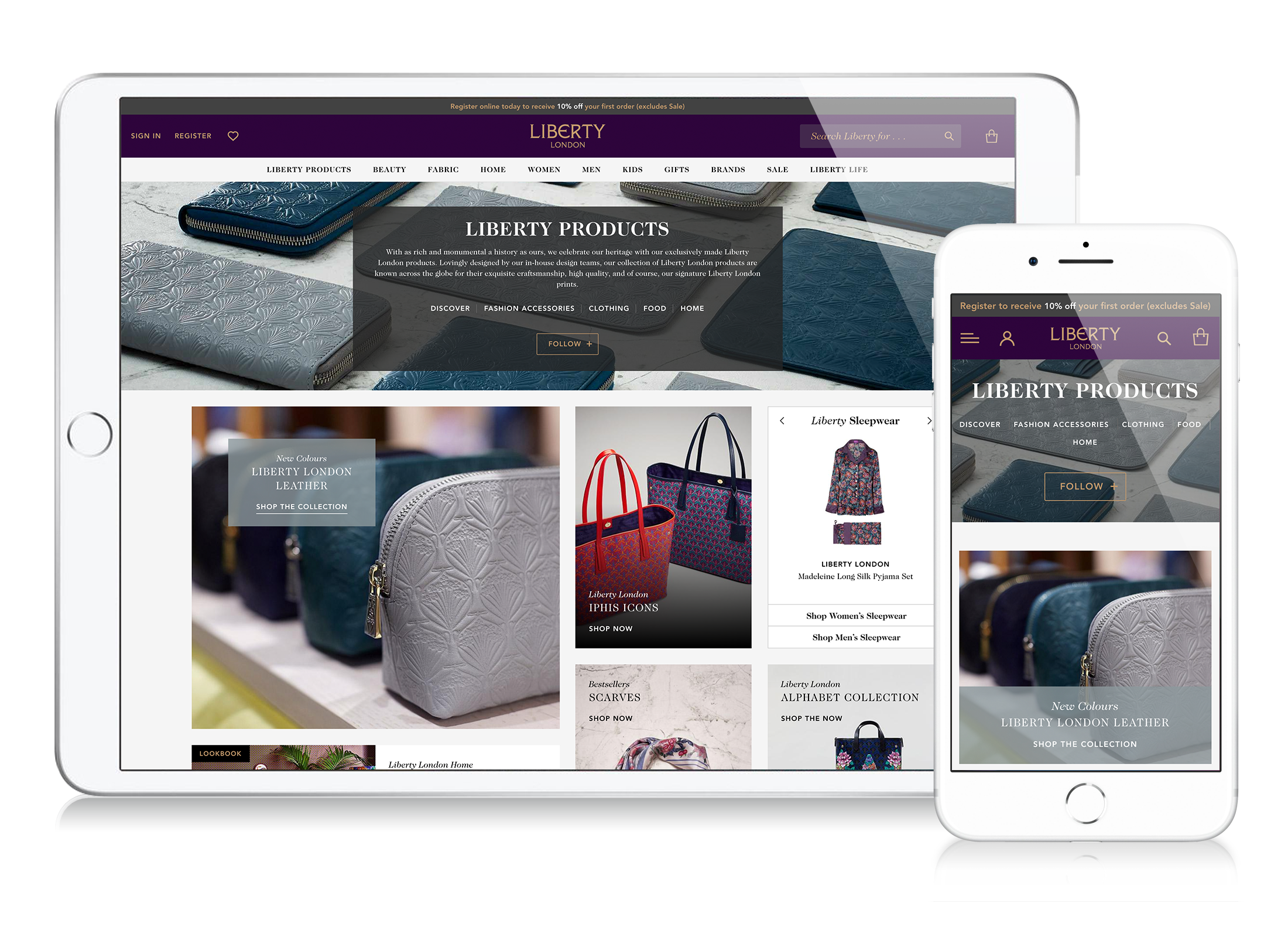 This headless design provides the ultimate in future-proofed capability for commerce, as the approach makes it easy to extend the shopping experience into voice and conversational interfaces, and because Dynamic Content radically simplifies the process of content production and management you can create more content than ever before and deliver true content targeting and personalization.
Amplience simplifies the curation of media

Social & User Generated Content
Amplience Social & User Generated Content (UGC) simplifies the curation and use of user generated and social media content across ecommerce home and landing pages, grid pages, and product detail pages.
Learn More
Content Planning & Management
Orchestrating complex customer experience changes across web, mobile app and store is at the heart of the content management problem. Creative operations teams are struggling to deliver high performance digital shopping experiences, as content planners and managers wrestle with many disparate tools and systems to plan and manage the shopping experience.
Dynamic Content's integrated calendar and planning tools have been designed to solve for this complexity. Using the tools, content managers can set-up promotional and storytelling content drops in-advance, by creating events and editions to define when content should appear in the storefront.
The integrated content calendar enables planners to set-up events and editions in advance, without recourse to complex spreadsheets.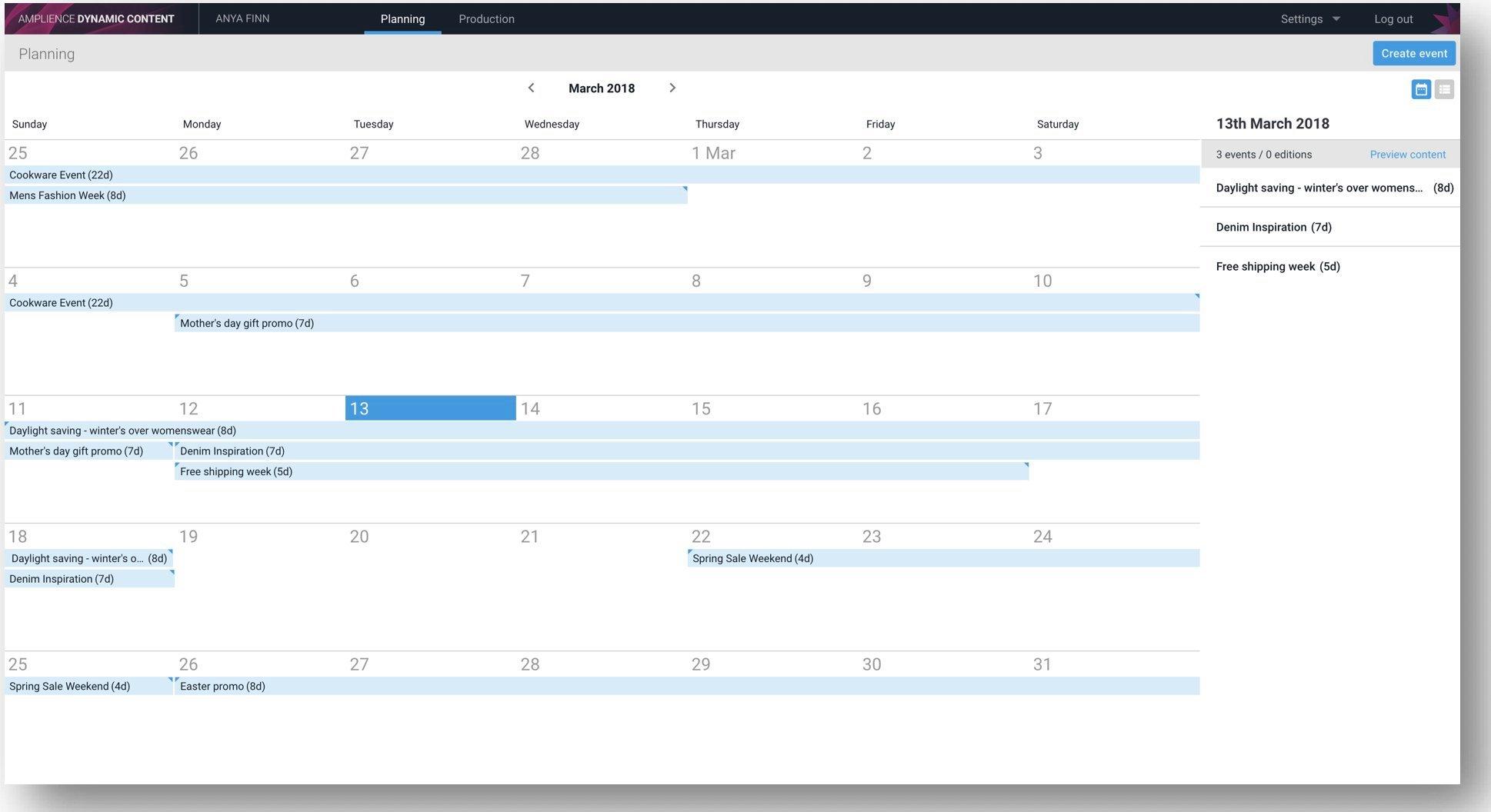 Editions are then combined with slots to define 'where' in the shopping experience that content should appear. In this way the content management problem is solved, enabling content operations teams with the tools that they need to orchestrate large volumes of complex, time-sensitive content, with confidence.
Editions define 'when' content is live, and in conjunction with slots, 'where' it exists in the experience.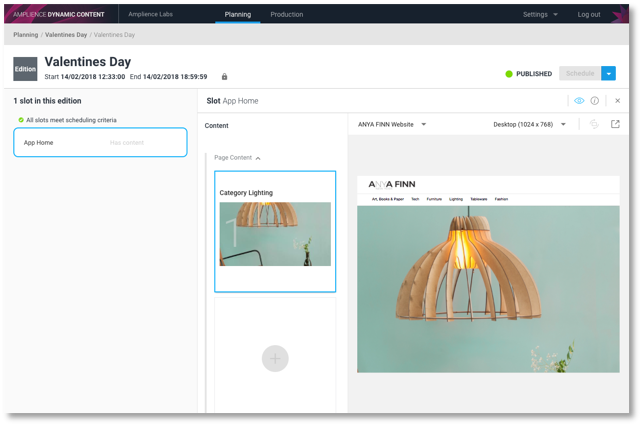 A more efficient process enables creative operations teams to deliver many more time-sensitive promotions into key channels than ever before, and enables more powerful storytelling that engages content hungry shoppers throughout the customer journey.

High Performance Content Authoring
Content comes in many types: from simple banners, promotional heroes and blogs through to rich editorial features, sophisticated buying guides, shopable look-books and detailed product comparison tables.
And content is now visual content, as engagement on mobile devices requires a powerful combination of text and media to tell powerful stories that work within the confines of a four-inch mobile screen, and that also renders beautifully on any other device, including tablets and laptops with retina displays.
In addition, more content variants may be required for each target segment and locale, and the promise of personalization is to use real-time behaviour and location data to create unique and relevant customer journeys, however this requires content that is structured and delivered such that it be mixed and remixed in real-time.
As a result, content production is a complex process, that can involve many different roles, from designers through copywriters, producers and planners.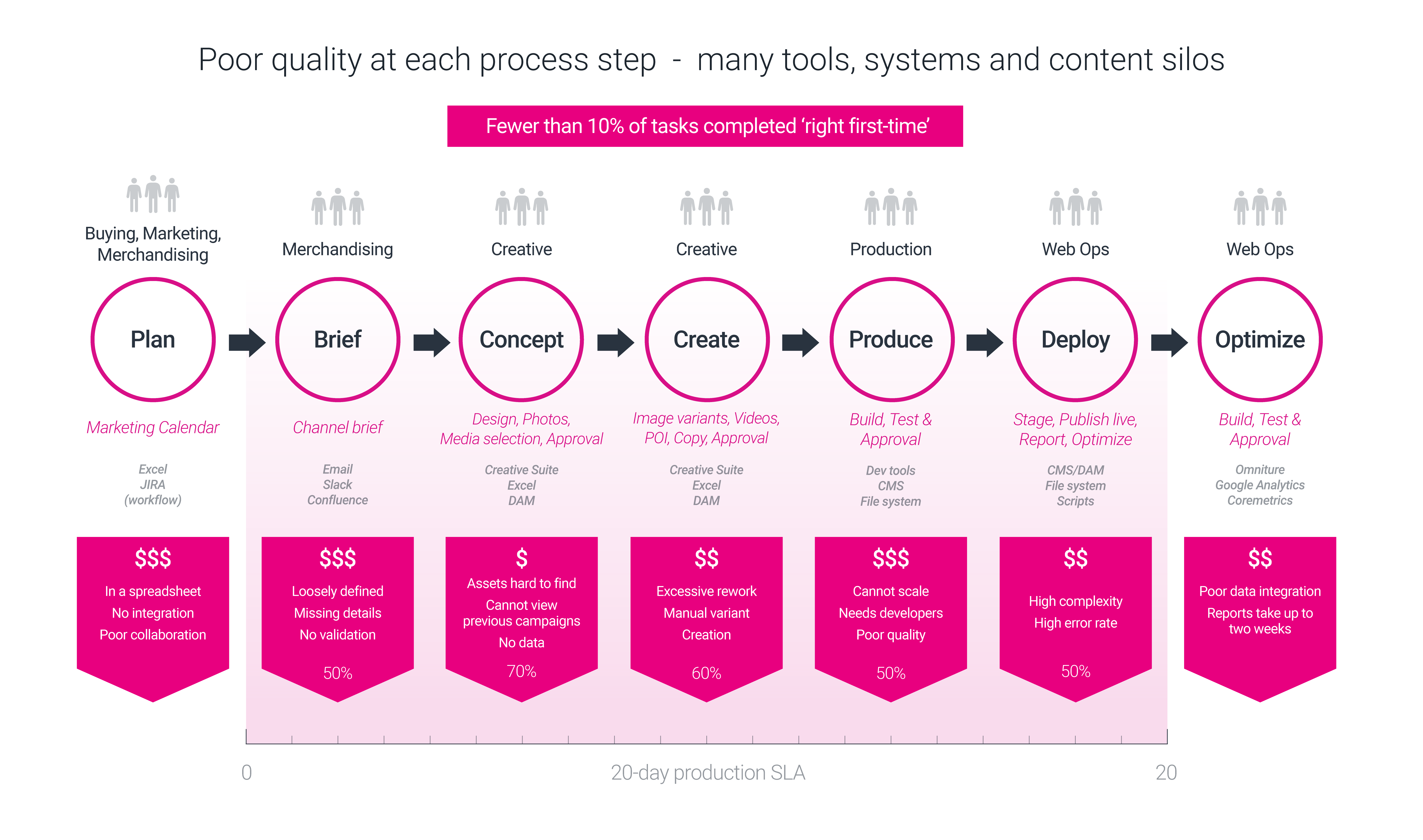 Dynamic Content's authoring tools, in conjunction with the image and video content management capabilities of Amplience Dynamic Content and Dynamic Media, have been engineered to re-invent digital content production as a lean and agile process - resulting in significant improvements to production productivity and quality.
The content authoring tools enable content editing in a simple-to-use and powerful interface that provides in-built content visualization. This provides line-of-business and creative professionals with a straightforward way to rapidly create and preview content.
The production tools feature an intuitive authoring interface with an integrated content visualization pane.
The content visualization can be configured with multiple device viewports to preview content in mobile, tablet and desktop form.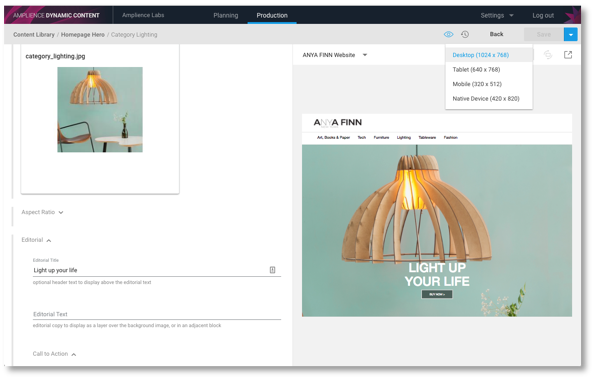 Each content type can include any combination of headline and body text, image and video media, shopable cues like product SKUs, and calls-to-action like links, navigational elements and 'buy-now' buttons. The content types can also contain user experience hints - that can direct the way that the content is rendered or include relative positioning information - to ensure that copy and image are properly aligned.
Take Digital Commerce To The Next Level
Dynamic Content combines advanced functionalities like content visualization, the content calendar and scheduled publishing to deliver line-of-business marketing and merchandising users with powerful tools to improve productivity and solve the content management challenge.